TOKYO, Jan 6, 2023 – (JCN Newswire via SEAPRWire.com) – TOYOTA GAZOO Racing (TGR) and Lexus are planning to exhibit at the three-day Tokyo Auto Salon 2023(1) to be held at Makuhari Messe (in Chiba, Japan) from January 13 to 15, 2023. Also, Lexus and Toyota are planning to exhibit at the concurrent Tokyo Outdoor Show(2) at the same venue. Both efforts–under the shared theme: "Toyota: Leaving no car lovers behind"–are to exhibit vehicles and automotive parts in line with the three concepts of "Carbon neutrality for protecting beloved cars", "Making ever-better motorsports-bred cars", and "Diverse lifestyles to enjoy with beloved cars". Details of the exhibited vehicles and other information are to be posted on the TGR website below as they become available. Also accessible via the same URL are to be a press conference scheduled for 9:30 a.m. on January 13 and talk sessions (featuring Toyota President Akio Toyoda, professional racing drivers, and others) during the show. The press conference will be available in both Japanese and English. www.youtube.com/watch?v=eP2YsAqMsMU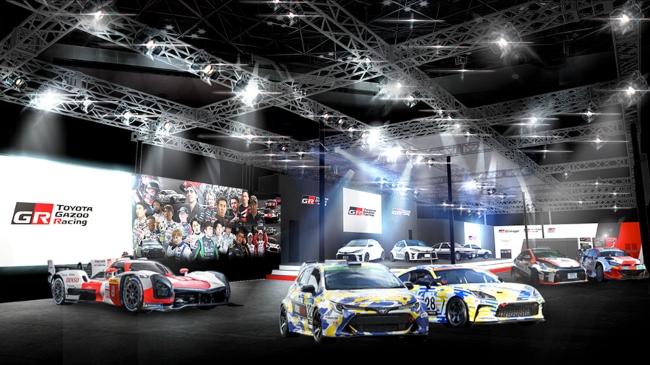 As new initiatives utilizing digital technology, TGR and Lexus have organized an "NFT Digital Stamp Rally" for added enjoyment at Tokyo Auto Salon 2023's physical venue and a metaverse-based "Virtual Garage by GR/Lexus" to deliver enjoyment to a broad audience of and beyond show visitors. For more information, please visit the following URL.
https://toyotagazooracing.com/jp/eventexhibition/tokyoautosalon/virtualgarage
"Carbon neutrality for protecting beloved cars"
Toward achieving carbon neutrality, Toyota is aiming to provide its customers with more choices by offering a full product lineup.
In parallel, expecting that it will take time before all new vehicles are carbon neutral, Toyota believes that simultaneously promoting the carbon neutralization also of vehicles currently in customer use is essential for the future. As such, TGR and Lexus will exhibit concept cars that propose that customers can continue to drive forever in their beloved cars while taking on the challenge of reducing CO2 emissions.
"Making ever-better motorsports-bred cars"
TGR is putting into practice its approach of "Making ever-better motorsports-bred cars" by commercially providing cars that have been honed to win races. At Tokyo Auto Salon 2023, TGR will unveil a product that commemorates its WRC drivers' title win. TGR will also announce a product that utilizes the knowledge gained through WRC participation, with demo runs planned for January 14 and 15.
"Diverse lifestyles to be enjoyed with beloved cars"
In addition to exhibiting vehicles that have been customized under the supervision of professional racing drivers, new GR Parts and GR Heritage Parts that are scheduled for release in 2023 are to also be displayed. Furthermore, Lexus and Toyota will exhibit for the first time at the Tokyo Outdoor Show. Toward achieving a carbon-neutral society, and based on its desire to deliver outdoor experiences that help people understand, enjoy, and protect nature, Lexus will promote its "Overtrail Project", which offers the fun of vehicles that enhance outdoor lifestyles while coexisting with nature and provides various outdoor experiences.
New initiatives using digital technology
1. NFT Digital Stamp Rally
The NFT Digital Stamp Rally is for visitors to enjoy a new style of stamp rally(3) using digital technology as they tour the venue. By scanning special QR codes placed at the booths of TGR and supporting companies, visitors can obtain original digital stamps from each company, with a bonus stamp being awarded to those who collect all stamps.
Participating companies
– Rays
– Bride
– Sparco/Sabelt
– Toyota Auto Body
– Daihatsu
– Modellista
– Tom's
– TOYOTA GAZOO Racing
2. Metaverse "Virtual Garage by GR/Lexus"
So that as many visitors as possible can enjoy Tokyo Auto Salon 2023, a "Virtual Garage by GR/Lexus" will open on cluster, which is one of Japan's largest metaverse platforms. The garage will enable visitors to freely enjoy the exterior, interior structure, and video images of some of the exhibited vehicles without worrying about time or crowds, and a participatory conference on the future of motorsports is also scheduled. Visitors will receive a special login gift. The virtual space is to partially open in advance on January 6, with the exhibition of vehicles slated to begin on January 13.
For more information on the "Virtual Garage by GR/Lexus", please visit the following URL.
https://toyotagazooracing.com/jp/eventexhibition/tokyoautosalon/virtualgarage
(1) A customized car event to be held at Makuhari Messe (in Chiba, Japan) for three days from January 13 to 15, 2023 (13th: industry and press invitation day; 14th and 15th: general public days)
(2) An exposition focusing on outdoor lifestyles and based on the concept of "Being kind to and enjoying nature–our new and prosperous lifestyles" to be held at Makuhari Messe (in Chiba, Japan) for three days from January 13 to 15, 2023 (13th: industry and press invitation day; 14th and 15th: general public days)
(3) An activity for collecting (traditionally) inked stamps at predetermined locations along a designated course or within a designated venue
Copyright 2023 JCN Newswire. All rights reserved. (via SEAPRWire)