SANTA CLARA, CA, Nov 14, 2023 – (ACN Newswire via SeaPRwire.com) – Graid Technology, the visionary creators behind the groundbreaking SupremeRAID™, and ThinkParQ, the developers of the innovative BeeGFS parallel file system, proudly announce their collaboration to elevate the performance and fortify the data protection landscape across multiple industries.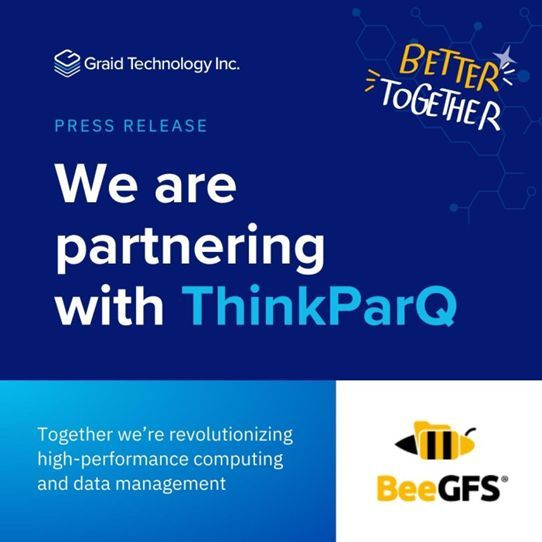 This strategic partnership joins Graid Technology's pioneering SupremeRAID™, a GPU-accelerated data protection solution, with ThinkParQ's BeeGFS parallel file system, recognized for its unparalleled performance, scalability, and simplicity in management. The union aims to address the increasing demands in High-Performance Computing (HPC), Artificial Intelligence (AI) and Deep Learning, Media and Entertainment, Life Sciences, and Oil and Gas industries.
The collaboration between SupremeRAID™ and BeeGFS represents a seismic shift in the realm of data storage, data management, and business resilience. It effectively sidesteps the performance limitations inherent in other RAID products, providing enhanced data protection, scalability, flexibility, and reduced total cost of ownership (TCO).
"By joining forces with ThinkParQ, we aim to redefine the benchmarks in high-performance computing, AI, and diverse industries reliant on data-intensive operations," stated Leander Yu, President and CEO of Graid Technology. "The collaboration between SupremeRAID™ and BeeGFS creates an unparalleled synergy that not only enhances performance but also ensures comprehensive data protection, scalability, and flexibility."
"We are delighted to partner with Graid Technology and are really excited for our partners and customers to experience how they can benefit from the collaboration between SupremeRAID™ and BeeGFS," said Frank Herold, CEO, ThinkParQ GmbH. "The technical innovation between the two companies will further enhance and accelerate our customers' experience."
The strategic partnership between Graid Technology and ThinkParQ signifies a pivotal moment in the evolution of storage solutions, promising cutting-edge advancements to cater to the most demanding computational workloads across various industries.
For more information, please visit the respective websites:
Graid Technology: www.graidtech.com
ThinkParQ: www.thinkparq.com
About ThinkParQ GmbH
ThinkParQ GmbH strives to create and develop the fastest, most flexible, and most stable solutions for every performance-oriented environment. Established in 2014 as a spinoff from the Fraunhofer Center for High-Performance Computing, ThinkParQ drives the research and development of BeeGFS, and works closely with system integrators to create turn-key solutions. Visit https://www.thinkparq.com for further information.
About Graid Technology and SupremeRAID™
Graid Technology, led by a dedicated team of experts with decades of experience in the SDS, ASIC, and storage industries, continues to push boundaries in data storage innovation. SupremeRAID™, hailed as the world's only NVMe and NVMeoF RAID card to unlock the full potential of PCIe 3, 4, and 5 SSD performance, eliminates traditional RAID bottlenecks, leveraging GPU acceleration to maximize enterprise SSD performance. The company's headquarters in Silicon Valley, supported by an R&D center in Taiwan, symbolizes our global commitment to pioneering advancements in storage solutions. Visit our website or connect with us on Twitter or LinkedIn.
Contact Information
Andrea Eaken
Director of Marketing, Americas & EMEA | Graid Technology
andrea.eaken@graidtech.com
949-742-9928
Troy Patterson
Head of Marketing and Partnerships, ThinkParQ
troy.patterson@thinkparq.com
Related Files
SupremeRAID BeeGFS Giga Computing White Paper.pdf
Harnessing the Performance of PCIe Gen 5_SMCI SupremeRAID KIOXIA.pdf
Copyright 2023 ACN Newswire via SeaPRwire.com.